What is the Coworking Customer Journey?
Last November at Coworking Europe Conference, together with my colleague and consultant Alexandra Ramió, we gave a talk about the Coworking Customer Journey; a handy marketing tool to design the user experience and the entire journey the member take in coworking spaces since he or she is interested in the service.
The customer journey is the path, steps, and interactions a customer goes through in a coworking space. It documents the whole experience of being a customer.
What is it for?
It mainly serves to:
Improve the conversion of potential customers.
Improve the level of retention and loyalty of members; therefore, the level of customer satisfaction.
Identify the weak points of the service offered to improve it.
Anticipate problems and customer complaints.
Automate parts of the sales process.
The step-by-step process
To improve leads conversion and members retention use CRM to improve sales funnel. We recommend our clients to use Hubspot; it is a very complete and easy-to-use CRM that you can also integrate with Nexudus, the coworking management software we recommend as well.
Phase 1: Lead Generation
Lead generation
We mainly capture leads through the Google and / or Social media Ads, in addition to the other sales channels we have such as coworking platforms, events, brokers, etc.
To carry out a Social Media Marketing Plan will help you to achieve the coworking company's marketing and sales objectives. One of them is the Lead Generation to attract new members.
In this phase it is important to collect the contact information of your potential client, email and telephone.
Lead reception
When a lead or a potential member contacts you to request information about your coworking services, you have to be prepared. The lead will land on your website and will contact you either by mail, chatbot, telephone or "walk-in" (visit the space without prior notice).
In this phase, the most important thing is to talk with the potential client, discover what coworking plan may interest them and above all, arrange a visit. For this to happen, different scenarios can be presented, such as the one we draw below.
You will save time preparing different scenarios and email templates according to the different scenarios; you can even automate some of these emails.
Phase 2: Conversion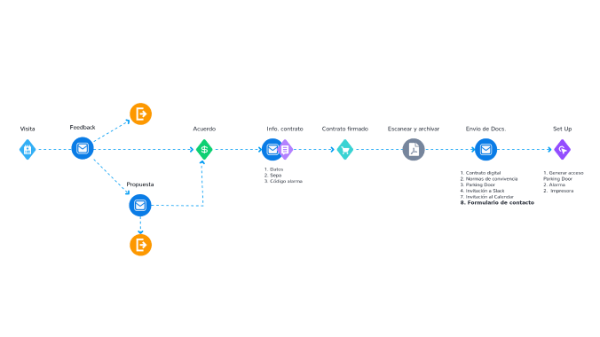 The coworking tour
The first impression that your potential client is going to get when visiting the space is vital. The person in charge of making the tour must know how to convey the brand well, sell the right service and make the potential client fall in love with coworking.
Invite the potential member to sit down for a moment and have a coffee. Take the opportunity to find out more information. Ask for the profession, what is the company about, what the potential member look for in a coworking space, how many meetings, training, or events will use per month. What exactly are the potential member needs to prepare well a personalized proposal.
Take the space tour, show the available options that you think might interest the potential member, even if you feel it is appropriate, introduce him to a member with whom he can collaborate or have synergies.
Follow-up the lead: Win or Lost
Once your lead leaves the space, email the potential member thanking him or her for the interest and the visit. You can send this email automatically from your CRM.
In the same week, send the proposal with the coworking plan that best suits the lead needs, and you discussed during the tour. Do not wait more than a week for him or her to respond, follow up. Use the phone; it is always more effective than an email. If you can't talk to the lead by phone, send an email saying, "We haven't been able to contact you", and ask for what is the best time slot in which you can contact him or her. If there is no answer, try it after three days, and then after a week.
If you manage to contact him, there are only two possibilities: he is interested or not. In case he is not, find out why he has not decided on your coworking space and leave the door open for a future occasion.
Suppose you convert the "lead", congratulations! The next step is to send them the service contract to sign, register the new member in your management software and prepare their welcome and entry into the coworking space.
Phase 3: Loyalty
Keeping a satisfied coworker costs very little if we compare the effort with the investment we put into attracting new clients. Take good care of your members because they are your prescribers; they are the ones who will speak well of your brand and attract new members. A satisfied coworker is an ambassador for your brand.
On-boarding
Member onboarding is essential and is the first loyalty action to carry out. Prepare an email and the welcome pack. Include the rules of the house and information about how the facility works. You can include useful merchandising material for the coworker's day to day in the welcome pack, such as a bag, a mug, a bottle of water, a notebook, a pen.
On the new member's arrival, show the member the whole space again, remind him or her how everything works; access to coworking, alarms, reservations for meeting rooms, cafeteria, etc. Introduce the entire team; your coworker must know who to contact to deal with different issues like administration, community, breakdowns, etc. If there is a community activity scheduled in the next few days, invite the member and take advantage of that day to present him or her to the other members.
At the end of the first week, have a coffee with the new member and ask if he or she feels comfortable and if the member is satisfied with the service. You can check again after a month.
Satisfaction surveys
There are different ways to measure the level of satisfaction of your coworker clients, and surveys are one of them. Send a survey to all your members every three months. The survey should be short, specific and anonymous so that all members can answer it.
The objective is to get an assessment of your entire service to know how you can improve. The survey should include:
Rating about the team: Are they efficient, friendly, empathetic, decisive, and quick to respond?
Rating about the infrastructure: Internet, comfort, noise, cleanliness, meeting rooms, etc.
Rating about the service: remember that coworking provides a work experience.
Rating about the community: Networking opportunities, business opportunities, collaborations, activities organized.
Make a question: How and what would you improve the service offered?
Face-to-face meetings
Another way to know the satisfaction level is the face-to-face meeting. Remember that the coworking business is a hospitality service, professional but close. Organize face-to-face meetings with your clients every six months, especially when the surveys' results are hostile and/or when the renewal of a contract is approaching.
When you have to make changes to make improvements, please let us know. And never commit to making changes that you won't be able to make.
Community activities
The community is a retention tool. When a coworking community is active and powerful, professional, but also personal relationships arise. These relationships make members stay in your coworking and even bring you more members.
To boost synergies and strengthen relationships, you should talk to your members, know your members well, and understand what interests or motivates them. Suggest that they organize activities so that they feel that they belong to the coworking space. You can also offer them visibility both on the web, social networks or that they share knowledge in a chat to make themselves known.
Ask your loyal and satisfied customers to review you on Google Business. Getting reviews on Google My Business helps improve your SEO and builds trust.
Make the improvements
If you don't take advantage of your members feedback, surveys and face-to-face meetings are useless. If you commit to making the improvements your members asked, you have to comply with them. Otherwise, you will lose your customers' trust, and they will leave.
Humanize your team
As we have already said, coworking is a hospitality business but also an operations business. On an operational level, your team must solve numerous situations, offering a professional and warm service that always puts people at the center.
Phase 4: Exit
Coworking, being a flexible service, has a high rotation of users. When more flexible is the service, there is more rotation. If a coworker leaves your space, it may be for many reasons beyond your service—for example, a change of residence or company.
When a client does not renew the contract and leaves, you must know the reasons for it. Talk to him or her and find out if there are opportunities for him or her to return to the future. Leave the door open to your space; keep inviting him to community events or networking because you never know.
Tools for the management of the User's Journey
Below we recommend tools that will help design and implement the entire user journey process described in your coworking space.
Management software: Nexudus, Essencys, Cobot.
Surveys: Nexudus, Google Forms, Survey Monkey, Type Form.
CRM: Hubspot, Strike.
Blackboard online: Miro, Mural.
Your management team.
If you found this article interesting, you can also download here The Customer Journey Guide for free.
This article has been written by Vanessa Sans, consultant and specialist in coworking spaces, coliving and hybrid workplaces.