Steps to create a social media strategy and make it profitable 
In recent years, Coworking's rising phenomenon has been accompanied by increasing attention to these collaborative workspaces' online and social media positioning.
"If you build it, they will come" does not apply to your coworking space, in your website, or other promotion platforms for flexible offices.
Do you think posting inspirational quotes or beautiful pictures on Instagram is enough to attract new members? Well, this article is here to guide you on how to make social media a key asset of your business.
Most of the Coworking's target audience has a strong match with the most active generation on social media, making this a crucial part of your digital marketing strategy.
Social media's traffic represents between 20% and 40% of the traffic of coworking websites in the US ( Upsuite, 2020). More than 60% of the potential customers are generated through Instagram, Facebook and Linkedin in this sector.
Do you wonder why you do not get tangible benefits for your business through these channels? With a strong and exciting presence on social media, you can attract new members and keep current ones interested.
In 10 minutes of reading, you will find many ideas, strategies, tactics and tips to improve your presence on social networks and to make the digital channels for your coworking space profitable.
Come one, let's get started!🚀
Structure of a Social Media Marketing strategy for Coworking spaces
A Social Media Marketing Plan or Social Media Plan is a document to carry out social media strategies to achieve the coworking company's marketing objectives. More importantly, the business objectives are detailed.
In other words, a Social Media Plan is a Social Media Marketing Plan.
It is the helm that will lead all our strategies and actions of the social media plan to be executed by several roles:
The community manager.
The Social Media Manager (and if you are lucky to find someone also expert in Facebook and Linkedin ads.
The Content Creator, which includes the photographer, video maker or content creator for the blog.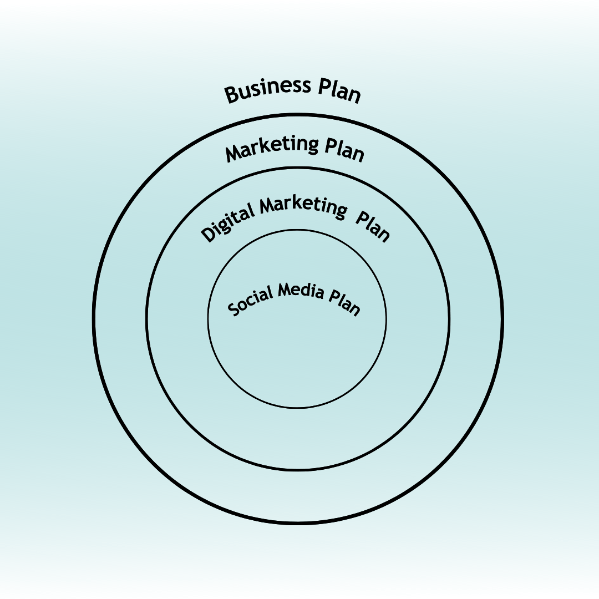 In the next few paragraphs, we will see how to structure and implement an effective Social Media Marketing strategy for your Coworking space.
A premise before starting … As in all business plans, we must first establish a budget for social networks (There is no social media plan without a budget).
The 3 phases of a Social Media Plan
1- Audit
The first and most crucial phase is the internal Audit (own digital channels, resources, strengths, weaknesses) and external (competitors, sector trends, interests of the target audience).
In this phase, we carry out a 360 ° digital analysis of the digital channels and the competition.
We analyse the profiles and web pages of direct competitors, the type of content, what Social Ads strategies they are using to attract potential clients and very importantly for a coworking space, how they integrate their community.
To do a professional analysis, I recommend using Metricool.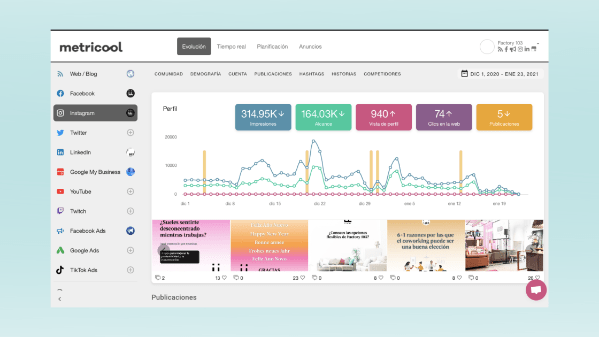 Once you have completed the analysis phase, it is time to identify your target audience—one of the essential steps in the entire plan.
What is the use of having the best Coworking space or the best flexible services, if you are not offering it to the right person? Here we define the Buyer Persona, a semi-fictitious representation of our final (or potential) consumer built from their demographic information, behaviour, needs and motivations.
What is your demographic information?
What are you working on, and what is your level of seniority?
How does any day at work look like?
What are your daily needs?
How can we help you solve your main pain points?
Where do they go to get information?
From the information collected, create a panel of yourself and describe it as a story. Give it a generic name (David CEO, Julian Freelancer, Ana People Manager) and, if possible, add a photo that best describes it.
📌Try using Hubspot's free tool to create your Buyer Personas.
Now is the time to determine the necessary resources aligned with the needs of your company.
You must consider all the human and financial resources and tools to carry out your social media plan.
In a nutshell, you will have to define who will be in charge of your Coworking's digital part; you will have to hire a photographer or a videomaker to create audiovisual content that highlights the space life in it.
Above all, as we will see later, you will have to think of a budget to invest in Social Media advertising.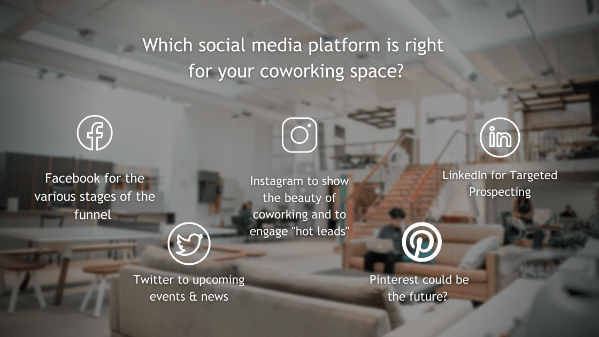 2. Operational (Strategic and Objective Approach)
Now that you have done an in-depth analysis of all the factors that can influence your strategy.
You know who you are targeting and how you should reach them.
A social media strategy is nothing more than planning all the actions you will carry out on social networks to achieve the objectives set.
You can have both qualitative objectives and quantitative goals, you must determine them based on the business goals you want to achieve.
To define your goals, start with a SMART structure, which allows you to measure them appropriately.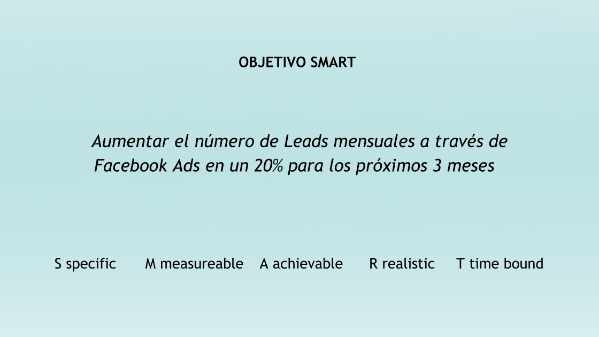 When you start to design the strategy, you have to go a step beyond the typical publications.
It's about publishing content that meets a goal.
We divide the Social Media strategy for a Coworking into three areas:
Content Strategy

Social Ads

Community Management
Content Strategy
Creating high-quality content that aligns with your brand and with your buyer persona is essential to attract new potential members.
A content strategy is like going to the gym.
For the results to begin to appear, you must wait at least six months.
You have to be very patient as, in most cases, it is a slow process.
There is one thing you must be clear about. What people are looking for are solutions to their problems and needs.
It is vital to create content related to each TOFU, MOFU and BOFU conversion funnel stages.
Okay, I know we're starting to get into pretty specific terms.
Let's look at what it means to create a funnel, and the three stages listed above mean.
(Don't worry, TOFU has nothing to do with vegan food 😅)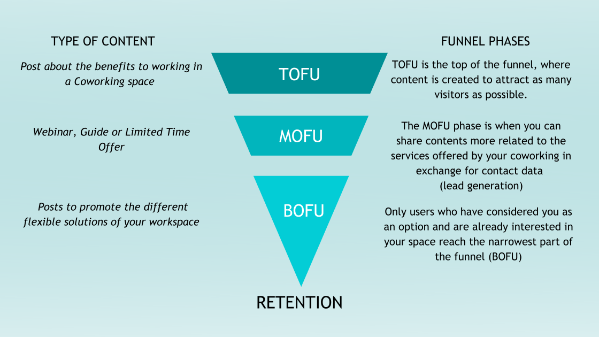 TOFU is the highest part of the funnel, where content is created to attract as many visitors as possible. In the TOFU stage, content is usually disseminated in post format to help your users, after consuming it, to identify what they need.
For example, a post about the reasons why it is convenient to work in a Coworking In this phase, it is essential to use the UGC, "User Generated Content ", that is to say, any content created by the users themselves, followers or in the case of Coworking, their members.
In the MOFU phase, you can start offering content with a more promotional sense and in line with your coworking services in exchange for contact data (lead generation). The MOFU stage is about providing content created to begin to see it as an option to consider to satisfy their needs. So you must be clear about your buyer personas' needs to accompany them within the funnel and prepare them for sale.
In this phase, we can use two different strategies:
A more 

direct and promotional

 one, in which limited-time discounts are offered in private offices or fixed tables, hours of use to test the space or the famous Free-Trial Day.

The second, which aims to give more value to the user, aims to create content such as 

downloadable

 

guides

, 

webinars

 or 

online events

.
It also requires more resources, but it can yield incredible results in engagement and brand awareness.
Now we come to the most crucial phase, which focusses on conversion (BOFU).
It is the fundamental piece that closes the sales cycle. Only users who have considered you as an option and are already interested in your space reach the narrowest part of the funnel (BOFU). To convert them into customers, you must create personalised content. Above all, have a post-lead sales process in mind, that is, structure and configure a CRM to track potential customers and an onboarding process in your community.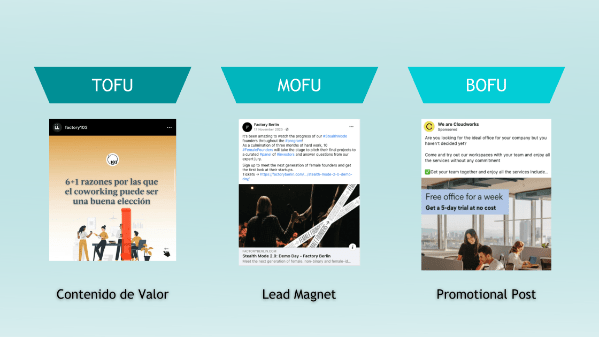 The choice of one type of content or another will depend on your objectives and the user's stage. You are more explicit about which type to choose; I leave you this matrix of Smart Insights content.
You have to be very patient as, in most cases, it is a slow process.
After you've brainstormed, organise your content into categories and set a goal and format for each category.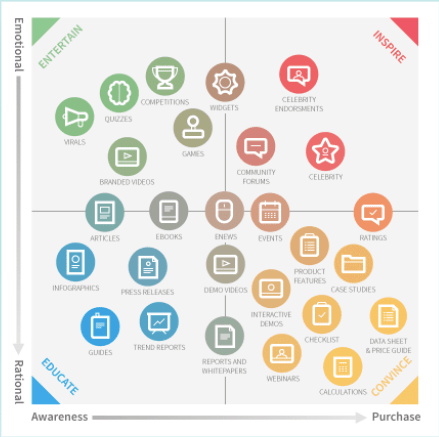 In the following image, I show you how I organise the content strategy in a "simple Excel table."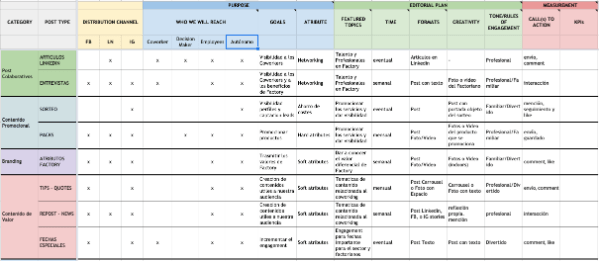 The key elements to include in this phase are:
The networks in which I publish.

Which buyer personas I want to address.

The objective of the post.

The format.

The CTA or call to action (in line with the aim of the post).
The last step is to distribute the content on an editorial calendar. 
Your editorial calendar must follow the calendar of events and promotions promoted in your space. Then, determine the day and time of publication, and if any other action accompanies the post.
Social Ads
We start with these statistics from Hubspot: "Only 6% of the followers of a page see an organic publication, and those who did not like the page are unlikely to see it."
If you've managed a Facebook business page the past recent years, you may have noticed several changes in terms of the number of followers that engage with your organic content and those that engage with your paid content.
Why has your organic reach decreased on Facebook?
Well, the motivation is straightforward… More ads are competing for space in the feed.
We can also see this trend in the world of Coworking.
More and more spaces are beginning to invest in Facebook and Linkedin Ads, some with good results and others that still do not perceive the benefits, so the question becomes easy:
 Is the paid content worth it?

Are we sure that Coworking is investing and exploiting these tools well?
Let's put theory aside and let's see how to structure Facebook and Linkedin campaigns for a Coworking space. 
Let's take a practical example and suppose that Coworking X in Berlin offers private offices designed for small and medium-sized companies, as well as a shared and flexible workspace. This Coworking wants to start attracting potential clients to fill its Private Offices, which are the spaces that make the Coworking business profitable.
After studying your direct competitors, knowing your Buyer Persona, and establishing a limited-time promotion to attract more potentially interested companies, you begin to structure a conversion funnel.
Now is the time to put into practice everything you learned before.
Objective: Lead Generation
Target Audience:
CEO.

Owner.

Founder.

Human Resource Manager.

CMO.

Office Manager.

People Manager.
Social Media: Facebook & Instagram – Linkedin
We apply the Full-Funnel methodology integrating organic content with promotional advertisements.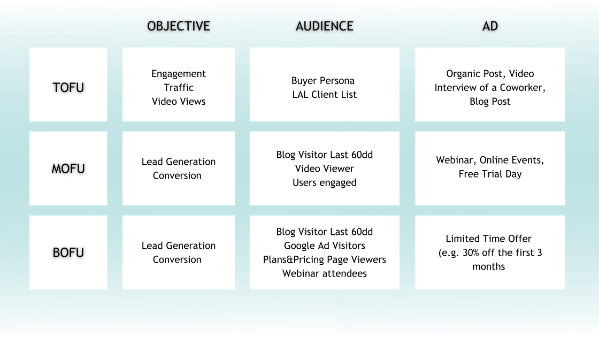 TOFU (Top of the Funnel) 
In this part of the funnel, we address people who do not know this space and, in some cases, do not even know what precisely a coworking space is.
As we have already mentioned, we use content that shows the advantages of working in a coworking, perhaps highlighting the savings compared to renting a traditional office (you can also integrate with a blog article) or videos of startup success stories of the ecosystem.
We set "easier" Facebook goals such as interaction, video views or traffic to the blog.
In this case, we use around 50% of the budget.
MOFU (Middle of the Funnel)
We're starting to get a "hotter" crowd here, and they already know us.
Why not show them the testimonials of current Coworkers and the companies that are part of your space?
Or why not organise a free webinar on topics such as startup, digital marketing, entrepreneurship, and the like?
We started to take advantage of the native forms of Facebook and Linkedin or create Landing Pages to collect data and show the values ​​that differentiate your Coworking.
In this phase, the invested budget is approximately 30% of the total.
BOFU (Middle of the Funnel)
Here we have to work 100% focused on generating prospects interested in renting a private office and being part of a community (because let's face it, not all companies are prepared to adopt the coworking culture).
In addition to promotions and promotional calls to action, continue to show your differential value (it can be your community, environment, central location, etc.)
The tasks in this phase are optimising and testing the copy, creativity, and conversion rate of the Landing Page.
Right now the audience is very close, probably at the end of their decision process, also showing them the advantages that your workers can have when working in a coworking space (cafeteria, gym, discounts in restaurants, etc.).
Community Management 
When you work in a community, you create a relationship of giving and take. You offer good service to your members, and they will be your promoters in return.
Promote your members and their businesses. If you advertise their professional activities on your networks as an extra benefit, this will add value to your offer. Additionally, it will benefit your space and increase brand awareness and reach, as it will generate more relevant content for potential new members working in the same industry.
You can even offer some advantages in exchange for creating content for your blog or your Social Media profiles, such as a few free hours per month, discounts on rent or membership fees for recommendations, free food and drinks. It can be very encouraging to integrate your community into the Social Media strategy of your coworking.
Creating a continuous generation of content from your members will help you attract a new group of members to join your space.
An essential part of community management is Real-Time Marketing.
Real-time marketing (RTM) is when a brand can be reactive and respond quickly to external stimuli, such as specific news, situations or anniversaries.
In the case of Coworking, showing moments of daily life, birthdays, the remarkable achievements of your members and trying to interact with them also online.
3. Analysis and Measurement
Anything that we can measure can be improved.
Now we move on to the data part. 😎
Define the basic metrics to measure your goals.
The most common in the coworking sector is the CPL (Cost per Lead), the number of Leads, the Conversion Rate  (CR) of both your ads and the Customer Journey phase before the lead becoming a new member.
We can define "Vanity Metrics", metrics not directly related to business performance (Engagement Rate, Followers, etc.) but are essential to measuring to evaluate your profiles' organic growth in Social Media.
📌You must know how to differentiate between metrics and KPIs.


📌All KPIs are metrics, but not all metrics are KPIs. 
From my perspective, the two most important metrics, which many coworking managers miss, are ROAS (Return on Advertising Spend) and LTV (Customer Lifetime Value).
The Customer Lifetime Value (LTV) in a coworking is the average benefit you will obtain per member throughout your relationship.
When you open your coworking space for the first time, you won't know your customers' lifetime value. You will guess or at least calculate it with estimates.
Over time, you will have enough data to better judge what that value should be.
I recommend that you average your calculations over a year or more. If you don't have enough data, make your best guess, but keep it low and conservative.
There are many complicated ways to measure LTV, easily googled (but are more difficult to apply).
You can determine the LTV of each coworker by multiplying the average monthly income by the number of months they will rent in your space. Again, you want your LTV to be higher, ideally much higher, than your CPA (this is another critical coworking business metric).
The Lifetime Value is the actual KPI that must take into account to calculate the return on your advertising investment (ROAS).
Now that we have reached the end, you have the basis for establishing a social media plan that is financially sustainable over time.
Coworking spaces offer many benefits, such as increased creativity levels, improved work standards, enhanced ties with the community, and much more. This modern-day job trend has a huge market to serve. As a coworking space, you offer a valuable service, and with more added value on social media than your competitors, you will fill up quickly and always stay full.
Inventing, testing and having fun are the keywords of a Social Media Plan.
I want to know your opinion in the comments on this post. Has it been useful?
And for the next article, what topic do you prefer to explore?
How to calculate the budget to invest in Ads.

Devise the Conversion Funnel.

Best Practices for Coworking Spaces.
Do you need help strategizing your coworking Social Media Plan?
The article has been written by Tommaso Bianchini, Social Media Strategist & Paid Social Specialist | Facebook, Instagram & LinkedIn Expert | Helping coworking spaces to make social media profitable and build online communities.
Featured picture: Cloudworks – Pujades (Barcelona, Spain) by Elastiko Architects.