An inevitable merger: Coliving + coworking
The normalisation of remote working impacts people's lifestyles by changing how we live and work. This change means that spaces must adapt to offer a solution to the need to work from anywhere in the world.
The traditional office has become less important in favour of coworking which allows individuals and companies to choose more efficient and flexible ways of working. The same is happening with traditional housing; there is a move towards flexibility due to housing affordability, international mobility, space shortages, and loneliness.
As remote working is becoming the norm, the concepts of coliving and coworking are merging, resulting in the hybridisation of both to meet the new needs of today's society.
Concept, advantages and examples of Coplaces
At HWL, we have specialised in developing coplaces, which is the hybridisation of coliving + coworking. We define a coplace as a building with a glocal ecosystem of professionals who live and work under the same roof. In addition, the coplace community comprises newcomers to the city who stay in the coliving for a while and work in the coworking; and local people living in the city who come to work in the coworking.
A coplace has a positive impact on society, the economy and the environment because it brings numerous benefits, among them:
It enhances the user experience by connecting the travelling remote worker or digital nomad with the local coworking community.
It provides a meaningful community that fosters professional and personal relationships.
It enhances the connections between them, giving way to international business relationships.
Optimises available space.
Offers affordability.
Reduces emissions and waste (avoiding commuting).
Activates local businesses in the area.
Examples of Coplaces
We have taken a few coplaces with locations in Barcelona city:
Viu
Viu is the first sustainable coliving + coworking building in Spain. Its location is next to the Sagrada Familia. It is a family project that aims to bring professionals into the city by making them feel at home. It offers accommodation from 1 month onwards. The coworking welcomes colivers and locals living near the area in Fix and Flex modalities.
Circles
Circles is a coliving and coworking "boutique" for conscious entrepreneurs. Its location is in the Tibidabo mountain with a stunning view f the city. It offers accommodation for one month or more. The coworking is also open to locals in the Flex mode.
The Social Hub
The Social Hub has locations in most European capitals. It started ten years ago as coliving for students. As its community grew, it evolved into a hybrid space with hotel rooms for tourists, shared housing for travellers, coworking for digital nomads and creative space for entrepreneurs and locals. It offers short- and long-term accommodation, and in its coworking locations, it has various options for companies and individuals.
Aticco Living
Aticco is a company that was born in 2015 as a coworking space and today has several buildings in Barcelona and Madrid. It has managed to create a powerful community mainly thanks to the activities they organise and the ecosystem they have created by integrating an acceleration programme they call Aticco Lab. In addition, they offer long-stay accommodation in shared flats nearby its coworking spaces.
The 4 Wanders story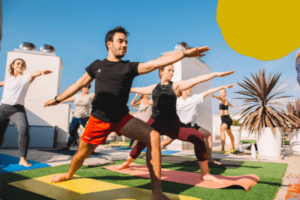 We talked to Nacho Zambralla, CEO and co-founder of Wayco and co-founder of 4Wanders, to tell us the story of 4wanders, a full-fledged coplace.
It all started in 2013 with the inauguration of Wayco, their first coworking space in Valencia. Today they host a vast community that occupies 6,400 m2 of customised desks, private offices, modern meeting rooms and fantastic event spaces in 4 critical neighbourhoods of the city. It has become the meeting point for companies, freelancers and digital nomads committed to flexibility and a new way of living and working in the city.
In 2019 Wayco saw a business opportunity when it realised that 50% of its coworkers were foreigners needing accommodation; part of them came to settle in the city and were looking for temporary housing until they could get comforted. The other part was foreign digital nomads who came to enjoy Valencia between one and three months.
To solve this need, Wayco partnered up with Singular Stays, a management company of tourist flats with locations close to its coworking spaces. Both shared the same user profile; an example was the company Remote Year which was working from Wayco and staying in the flats of Singular Stays. The partnership was imminent, and they decided to create Coliving Valencia with 30 units of studios and apartments with common areas such as the terrace, the hall or the laundry to socialise in different locations.
The next step was to consider offering a purer coliving concept by renting La Jabonería, a small building consisting of 11 rooms plus a shared dining room, bathrooms and kitchen. The workspace was still Wayco. La Jabonería was aimed at a younger profile, with a tighter budget but looking for a more intense experience.
In 2023 came the moment of growth with a Valencian investor who has enabled them to obtain more locations and consolidate the hybrid model, the brand and the community. The first location is currently in construction and is a complex of two buildings with 45 individual flats and an annexed warehouse for coworking open to the neighbourhood.
In addition, 4wanders also offers team retreats. This service has been in demand within coworking for the last five years and feeds back into coliving and coworking businesses.
We asked Nacho what challenges he had experienced and his recommendation for other operators wanting to open and run a coplace. Hereby his answer:
As a challenge:
Finding the right assets with suitable characteristics for coliving.
Finding investors and owners who understand the business because there is still a traditional mentality, and the concept is still very new.
As a recommendation:
Knowing your user well and detecting their needs.
If you are considering developing and operating a hybrid model, contact us to explain your project. At HWL we can help you throughout the whole process, from conceptualisation to business start-up.
Featured image: 4Wanders.