Last June, we went to Bansko Nomad Fest in Bulgaria. This week-long festival brought together nearly 700 nomads from 40 countries for a vibrant experience in which they discussed everything from the influence of artificial intelligence on remote work to strategies for sustainable sources of income. Now in its third edition, this festival has become a benchmark event for professionals who adopt this lifestyle, becoming a platform for connecting and exchanging experiences and knowledge about this increasingly popular way of living and working.
HWL went to Bansko to get to know this potential user of coworking and coliving spaces first-hand. To learn about their needs, concerns, pains and challenges when adopting this lifestyle.
What have we learned at Bansko Nomad Fest?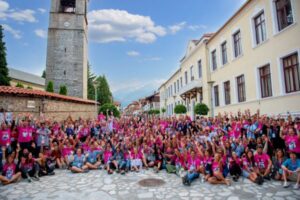 1. Digital Nomads are a tribe
We define digital nomads as location-independent employees who work from wherever they want. Their lifestyle consists of travelling while continuing to develop their professional career. They tend to work in cafes or coworking spaces, sleep in Airbnb's or colivings, and be free to work from anywhere worldwide; they rely 100% on the internet and electronic devices.
A digital nomad can feel isolated and lonely when working and travelling alone. Although they have the freedom and flexibility to explore new places, cultures and experiences, sometimes they need little human connection and support. They want to meet like-minded people who share their values, passions and lifestyle. They want to belong to a tribe that understands and helps them grow. To this end, there are online and offline communities all over the world that make it easy for the digital nomad to find their tribe. We highlight the most important ones:
Online communities

Nomad List: Global online community and benchmark for digital nomads that offers a technological platform designed to compile data of interest to digital nomads, remote workers and freelance professionals who love to travel, fulfilling the objective of informing and creating communities in the best countries and cities to work remotely.
Coworking Days: Coworking meetings with digital nomads, remote workers, and entrepreneurs who meet regularly online and offline in coworking spaces.
Nomad Soulmates: It brings together like-minded people who understand the digital nomad lifestyle and all it entails.
Facebook groups and meetups
Digital nomads around the world.

Digital Nomad Girls.

Jobs for digital nomads.

Events for digital nomads

Digital nomads in [City/Country].
Coworkings or coworking cafés
Coworking spaces host strong communities of professionals and are an ideal place to work and meet local and international people.
Coliving spaces
Colivings help the digital nomad land in a new city and access essential living services while joining the space's international community. Coliving operators such as Selina, Outsite or Habyt are present in most parts of the world.
Travel programmes for digital nomads
Conferences and Festivals
2. Digital Nomads have experienced exponential growth since the pandemic
Did you know there are some 35 million digital nomads worldwide, of which 16.9 million are from the United States? Since the pandemic, digital nomadism has become a popular lifestyle. More and more companies offer the possibility to work remotely, leading many traditional employees to adopt this way of living and working.
According to the MBO study, the number of digital nomads in the United States will grow by 47% in 2019 and 42% in 2020.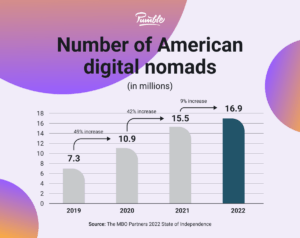 The Bansko Nomad Fest gathered 700 people from all over the world. While in previous editions, the attendance was much lower, confirming this movement's growth.
3. The Anatomy of the Digital Nomad
Median profile

The median profile of the digital nomad we met at the festival is a man or woman around 34 years old, works as a software developer from cafés or coworking spaces, works less than 40 hours a week, stays in Airbnb or coliving spaces, and loves outdoor sports and ecstatic dancing.
Nationality

The predominant nationality at the festival was American: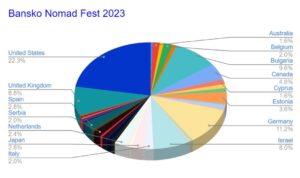 The average stay in a city

They usually stay for only 1 to 3 months.
Common professions

The results of the Nomad List are very much in line with the answers of our interviewees at the festival. The majority of digital nomads are employed full-time, and the predominant professions are:
Software developers.

Startup founders.

Web developers.

Marketing professionals.

Creative professionals.

UI/UX designers.
Sports and activities

We asked the attendees, and most of them preferred sports and outdoor activities such as climbing, hiking, cycling, volleyball, outdoor yoga and ecstatic dance.
Top rated cities

When asked about the festival, most interviewees visited Bansko for the first time and loved it. Bulgaria is gaining ground in this travel trend and becoming a certified digital nomad hub.
From Bansko, our interviewees valued:
Affordable site.

There is an established nomadic community thanks to the work done by Coworking Bansko and the festival itself.

It has a good location for exploring Eastern Europe.

It is outside the Schengen zone.

It has an amazing outdoor adventure and nature.
If we check the Nomad List, the top 10 highest-rated cities in the world are:
Bangkok (Thailand). A score of 4.28/5.

Canggu (Bali, Indonesia). A score of 4.28/5.

Lisbon (Portugal). A score of 4.21/5.

Zagreb (Croatia). A score of 4.21/5.

Bengaluru (India). A score of 4.05/5.

Gran Canarias (Spain). A score of 4.04/5.

Chiang Mai (Thailand). A score of 4.03/5.

Berlin (Germany). A score of 4.01/5.

Mexico City (Mexico). A score of 4/5.

Madeira (Portugal). A score of 3.98/5.
Sofia is the 17th highest-rated city by members with a score of 3.75/5, while Bansko scored 3.65/5. See values rated here.
Pains and challenges

In order of coincidence, the aspects that they would like to improve in their lifestyle are:
Loneliness and isolation.

Work-Life balance.

Time zone difference.

Internet connectivity.

Lack of knowledge of the culture and language of the city.

Visas and legal aspects.

Financial management.

Accommodation and transport.

Work management when travelling.

Safety and uncertainty when arriving in a new place.
4. Full list of Visas for Digital Nomads
At one of the "unconferences" we attended on visas and legal aspects, they shared this guide with the 43 best countries with digital nomad visas.
5. Selection of AI applications to work with
The talk we found most helpful was by Monika Rizovska Tanevska, an expert in technology, branding and communities, on the best AI-based tools to improve remote work productivity. Learn more about the apps at the following link.