Coliving is the new home for young generations
Coliving is becoming the new home for Millennials and Centennials, generations that demand more flexibility and accessibility, but less liability and ownership. According to our experience developing coliving businesses and studying their target market, coliving as a flexible housing solution, all in one bill with no permanency, fully satisfies these young generations' fast-changing needs and lifestyles.
A comprehensive definition of coliving could be a Living service offering flexible accommodation solutions to a curated community that wants to enjoy an inclusive living experience. It combines typically smaller private areas supplemented with a broader provision of shared communal space and amenities.
Coliving models and examples
We classify coliving in 4 types depending on their operating model, growth strategy and location.
Hybrid model
Hybrid coliving are those hospitality operators that are moving to coliving, for example, coworking spaces integrating coliving, as well as hotels, hostels or apart-hotels. They generally offer short stays and focus on a community made by locals and travellers. Live Zoku, The Student Hotel, Selina (also vertical), Stay and Soho House are some good examples.
Vertical model
Are those startup operators with an expansion focus. Their models tend to be light on services and community facilitation and are aimed at becoming platforms that can be easily scaled. Their focus is on long-term leases. As vertical coliving examples, we have The Collective, Quarters, Node, Common among others.
Urban model
Do real estate companies generally operate those coliving, and they located in urban areas with high levels of density and high rents. Coliving, in this case, acts as a pure flexible living solution alternative to traditional leasings, the model tends to be decentralized in different coliving small units across the same city. Their focus is on long-term leases. We consider urban colivings models those spaces such as Venn, Enso, Urban Campus or Aticco Living.
Rural model
Like the urban, it represents an intentional and impact-driven model, in this case, to escape from the gentrification of cities and to activate rural areas, with work retreats offerings. They are generally located in inspirational places to attract digital nomads. Their focus is on short-term leases. As rural colivings there are Coconat, Mokrin House, Sende, Anceu Coliving and Sun & Co.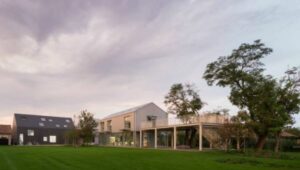 How the industry was evolving till the pandemic
There are so many problems that coliving aims to solve, the same than factors affecting the growth of this trend. 
The primary and general factors pushing the growth are:
High rents: Many urban residents are cost-burdened–spending over 30% of income on rent.

Marriage and family formation have been delayed.

Social isolation.

People have fewer savings, they live the day a day.

Living up to date prioritizes access to the use versus the property.
The solutions brought by coliving are:
Flexibility.

Affordable living.

Payment for the use.

Curated community.

Reduction of the economic footprint.

Social and community activation.

The comfort of a private studio with shared amenities and common areas such as a workplace, gym, concierge, laundry, lounge, rooftop terrace, etc.

Professional added value, experience enhanced productivity.
A study made by JLL before the pandemic, the estimated coliving projections in Europe were almost 25.000 coliving beds either built or in the development pipeline. Last two years, coliving had experimented an exponential growth similar than coworking and supposed to continue to grow. The image below identifies the main national European coliving markets, pinpointing key growth areas and providing an understanding of what the sector is like today.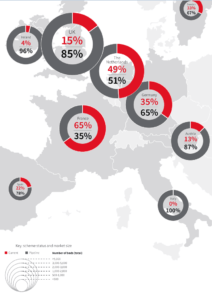 Coliving in real-time
COVID-19 has accelerated the focus on community, wellbeing and sustainability, pushing the sector to evolve faster in the mid-long term. 
The lockdown has stopped the growth plans of vertical coliving in full expansion, due to delays in material supplies or the fast integration of health and safety protocols and rules on-site. Regarding operators, those focused on longer-term leases (6-12+ months) have fared much better than those who rely on shorter-term leases (< 3 months). Overall, the industry has performed well during COVID-19, compared with other industry operators such as coworking or hotels.
According to the recent Coliving Insights report, some trends detected in current operators due to the pandemic will stay. The most relevant are:
Coliving will shift towards long-term stays
Coliving was driven in an era of free movement, and this has dramatically changed due to COVID-19. Those operators specialised in short-term stays, targeting digital nomads and business travellers, have been significantly affected by Covid travel restrictions. Some of them had to close temporarily, others adapted to long term offerings or negotiate leasing contracts with landlords and tenants.
Besides, some hotels, hostels, apart-hotels and student accommodations have bitten hard by COVID-19, have changed their strategy and adjust their business model to the long-term too, embracing coliving. So, it looks like long-term coliving is better in terms of economic stability in this uncertain time, and operators need to focus on long-term leases to retain occupancy.
Due to travel bans too, the coliving industry is focussing on local tenants rather than digital nomads like before. So, the target audience is going to change at least until free and global movement returns.
The pandemic increased the feeling of loneliness
The pandemic has strengthened the feeling as well as the need to belong to a community. Coliving will continue to get traction as it fights loneliness, it holds a community and focuses on addressing loneliness as a part of its strategy. 
Online events
COVID-19 has also accelerated the everyday use of digital services and products such as zoom. We were isolated to reduce physical interactions but no social. Many coliving spaces like coworking spaces, to encourage social interaction and keep their communities alive and vibrant, offered online activities and meetups. As we said in our past article about building up online communities, the physical space doesn't matter; communities can grow online. So, one thing to keep an eye on is the development of hybrid events and communities.
Re-designing property leasing contracts
Some experts are predicting a shift towards the property management "revenue-sharing" model since the pandemic; where operators would be sharing company benefits, the upside during a healthy and economy period but would face much less risk during recessions.
The asset transformation
Another emerging trend hospitality operators are experimenting with is that office buildings are converting into coliving or also coworking spaces. So, more hotels moving to coliving.
The importance of an engaged and authentic community
As we always said in coworking, the community is the soul of the space increasing the company incomes. In coliving, a place where people live becomes more important. So, one of the key features of a successful coliving operator post COVID-19 would be the importance of resident-led community-building. An engaged and authentic community will make a coliving stand from other competitors.
Re-designing safe living environments
The pandemic has pushed the demand for higher levels of privacy, forcing to re-think spatial design, for example, the space for small and shared rooms or implementing areas to work. According to the design & architecture studio Cutwork, an optimal split would be close to "75% for private areas, 15% for shared areas, and 10% for circulation."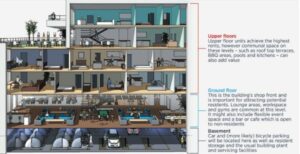 The PropTech
Another important trend that has come to stay is innovation and technological applications applied to the real estate sector, in this case, in building management. Technology also plays a critical role in coliving business models, introducing processes that enable electronic access, 3D tours, hygiene practices, etc.
Will coliving continue growing and how will it evolve?
COVID-19 put investments on hold during the pandemic, but the investment market is currently looking for opportunities to transform distressed assets into coliving. According to CBRE article, investment opportunities into coliving are development focused, which means potential longer-term changes triggered by COVID-19 can be incorporated into the next generation of building designs. 
According to Coliving insights, 'focus on Environmental & Social Impact investments may change post-pandemic, with investors nowrecognising those management strategies that focus on looking after tenants' mental and physical wellbeing should get equal recognition as impact investments that focus on the environment. 
Coliving is more than a housing product as the model appeals to a lifestyle; a group of people choosing a new way of living. The past few years, there has been a shift in human behaviours; people are choosing community, wellbeing, sustainability and experiences, the pandemic has accelerated this shift.
New consumer needs will make coliving focus on other targets, creating niche models like coliving for families, senior living, students, startups, and different specific consumer needs.
The coliving model will have to adapt to consumer new needs and preferences arisen from this uncertain global context, adapting the space to new layouts and technology to ensure physical distance and health measures, designing new business strategies of leasing, operating and marketing. The current situation will need time to adapt to the recent changes, but it seems that the sector will evolve and grow.
 We are a consultancy agency specialised in coliving and coworking projects, our comprehensive service for coliving development, accompany you from the concept to the project implementation.
If you need help to develop a coliving project
 References:
Coliving is here to stay by Coliving Insights, European Coliving Index 2019 by JLL, Covid-19: Global Real estate Implications by JLL, Will Co-Living survive the pandemic? by CBRE, The evolution of coliving 2020 by Savills.
Featured image: Common coliving.
The author of this article is Vanessa Sans, founder and consultant of Happy Working Lab.