Remote working is becoming preferred for many workers and companies as it offers flexibility and autonomy. However, it can be overwhelming for some people who telecommute from home because they need more space or the right environment or feel lonely and isolated. In this case, coworking is a good solution that comes in different forms.
Since we started developing coworking projects, different coworking spaces have emerged as the sector has grown to differentiate itself in a competitive market and attract the correct users.
As for the user, they will opt for one type of coworking or another mainly because of the following:
Proximity to their home.
Services and amenities needed.
Community affinity.
Quality-price ratio.
Examples of coworking spaces
As I said, coworking has taken many forms; here, we highlight the main types of spaces on the market:
Independent Coworking
They are the pioneers of coworking. Entrepreneurs who are enthusiastic about this way of working run these spaces. They are focused on professional communities and provide them with the necessary tools to develop their businesses. They have a strong identity and community. The profile and the sector they target are multidisciplinary; they are freelancers, SMEs, organisations, remote workers, etc.
Examples: Factory 103, Coworkidea, Transformabxl, VIOS.
Flexible Office
They are the evolution of business centres. Real estate companies or large international brands with multi-location strategies operate in these spaces. They focus on offering services to develop business activities. And they are mainly aimed at companies.
Examples: Monday, Cloudworks, Utopicus, Spaces.
Corporate Coworking
Corporate coworking is when an organisation opens a part of its workspace for external professionals. The main objectives pursued by the organisation are, on the one hand, to make the square metres of unused space in its building profitable and, on the other hand, to achieve what we call open innovation, that is to say, the use of external and internal talent to innovate within the organisation.
Examples: Bayer, Orange, Endesa.
Niche Coworking
These are sectorial spaces and a growing trend due to the need to differentiate oneself in a competitive market. We find clinical coworkings, holistic coworkings, coworkings for hairdressers, and coworkings for sportspeople, architects, musicians, etc.
Examples: Elever Center (coworking for psychologists), Inspira Fitness (for sports trainers), The Bridge (for musicians), The Kool Hub (dedicated to retail), Impact Hub (for social impact professionals and businesses), etc.
Warehouse Coworking
It is a niche coworking. These coworkings offer e-commerce solutions and are aimed at online product shops and offer workspace for teams and space to receive, store, and ship the goods they sell. Integrating shared workspace and warehousing reduces costs, which is a tangible help for entrepreneurs.
Examples: Working Depot.
Rural Coworking
These are coworking spaces located in villages and rural areas. These spaces play a vital role in the re-activation of depopulated areas. They are also destinations of choice for digital nomads and remote workers searching for inspiration, tranquillity and balance between their business and leisure activities.
Examples: Ludgate Hub, Nèctar, L'Espai Cowork, Sende, etc.
Innovation Campus
These are technology-focused centres where digital and technological knowledge is promoted through mentoring programmes, acceleration and courses.
They are aimed at startups, students and technological organisations. Coworking seeks to create a technological ecosystem to innovate within companies.
Examples: Talent Garden, Factory Berlin, Innovation Campus, etc.
Public Coworking
Public administrations run these workspaces to boost the local economy. They usually offer below-market prices and are aimed (or should be aimed) at startups and entrepreneurs starting their businesses.
Examples: Sinergics, DFactory Barcelona.
Coplace
We talk about coplaces when a coworking and a coliving merge and add other services and amenities such as a gym, swimming pool, restaurant, cinema, etc.
It is a growing trend that manages a glocal community: the locals who come to work in the coworking space and the international community that resides seasonally in the coliving.
Examples: The Social Hub, Viu, Soho House, Circles.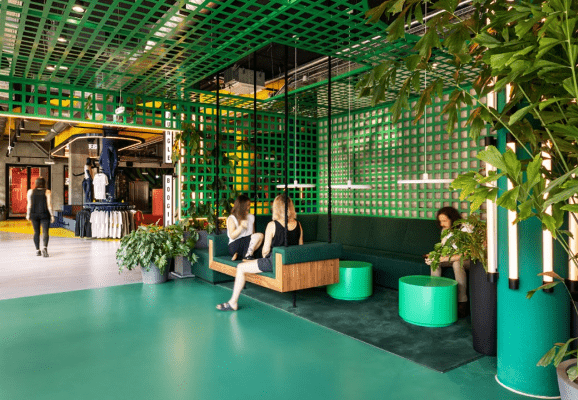 Hotel Coworking
When the hotel includes coworking as one of its services or amenities, it is a much-appreciated service for business travellers. Hotel coworking is a growing trend that enhances the user experience and connects the traveller with the local coworking community. In addition to attracting new audiences, it strengthens the hotel's brand through the community, helps differentiate the hotel from its competitors and ultimately capitalises on its business.
Examples: Hotel Schani, Nest by Tryp, Seventy, Zoku Live, etc.
Coworking in Shopping Centers
This trend grows slowly. In this case, coworking facilitates business opportunities for retail shops and restaurants in the shopping centre during weekdays when traffic is lower.
Examples: La Oficina Center, Avila Spaces, Max Center .
Social Clubs
These private and exclusive spaces offer different amenities, from rooms where you can work to gyms, entertainment rooms, workshops or corners to enjoy refreshments or cocktails.
Examples: Juno House, Common House.
Makers
These are known as fab labs or creation spaces for professionals who work in 3D technology, wood, crafts, etc. They have tools for creation (saws, scouring machines, drills, 3D printing, etc).
Coworking Cafés
Some restaurants or bars that work at night transform their rooms into coworking spaces during the day to improve the business's economy. However, there are also cafés dedicated exclusively to people who come to work. They offer flexible plans combined with breakfast, coffee or refreshments.
Virtual Coworking
There are two types of virtual coworkings. The one that is purely online has no physical space; a space is shared in the cloud where the community members interact virtually (Sin Oficina). The hybrid one, i.e., the user contracts a virtual membership in a coworking space that gives them access to a physical address to domicile their company, reception of messaging, call answering, and access to the space and the community for a few days a month. In this article, you will find information on how to set up a virtual coworking membership.
We also find coworkings in gyms (Metropolitan), airports, banks (Santander Work Café), etc. In these cases, as in the case of the hotel, coworking acts as a value-added service to the main line of business.
As you can see, coworking has evolved into many types and modalities, and sometimes, the line is fragile to distinguish them. However, if you are willing to set up a coworking space, your chosen type will depend on the target audience you want to attract.
Featured image: Second Home coworking.