Hotel Coworking born to fit the needs of the modern worker
Customer expectations for experience are higher than ever, especially in the hotel sector. Until now, you did not expect to find a coworking space in a hotel, but actually, they suit a changing lifestyle that appeals to Millennials, who are the generation of workers who travel the most and enjoy collaborative and communal environments. Coworking provides a warm working experience, allowing people to live, work and socialize at the same time in a collaborative atmosphere.
Recently, hotels have begun to integrate coworking spaces in their facilities or to activate their lobbies offering free spaces to work from. They also have started to promote events to build up a community like coworking spaces do, facilitating connections and boosting professional synergies and social life.
Hotel Coworking is a growing trend that connects the traveller with the coworking local community improving the user experience and satisfying the demands of the new generation of workers. In addition to attracting new audiences, it also strengths the hotel brand thanks to the community, helps to differentiate the hotel from competitors, and last, it capitalizes the hotel business. If  your hotel looking for innovative solutions, our consulting agency can help you to integrate and establish coworking as a key part of company strategy.
Hotel Schani was the first "startup hotel" in Europe that opened its doors in 2015 to meet the needs of local workers as well as the needs of contemporary travellers creating and stimulating a hybrid community. Initially, they integrated a coworking space into the hotel lobby including twelve desks where hotel guests can use it for free and locals pay a membership.
I think that guests need what many coworkers need: community. Aside from having the chance to meet locals, they also have the possibility to meet global coworkers who are travelling around. Anita Komarek – Hotel Schani (Vienna).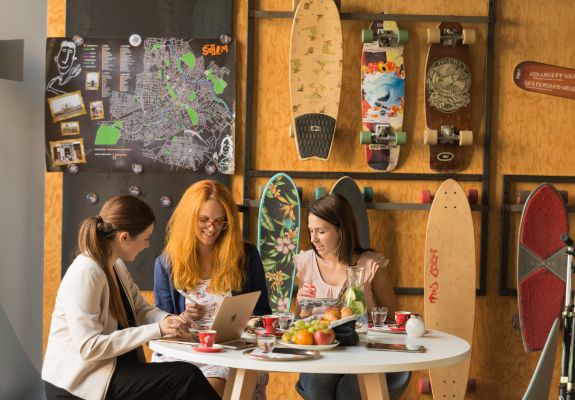 Hotel coworking allows to reach new audiences and create a community, but when membership is offered, the hotel can generate income, capitalizing on the existing space. A part of becoming a new business division of the hotel, revenues can be also filtered to other areas such as restaurants, lobby stores, coffee shops and more, as visitors seek to explore the facilities and stay under one roof.
NEST has become the go-to spot for local entrepreneurs and international business travellers in less than six months of its opening. Additionally, NEST's audience has generated substantial revenue for TRYP Dubai's restaurants, bars and rooms therefore yielding a greater return on investment in marketing, brand awareness and media coverage, created by NEST's programming events for the hotel. Joella Moore – NEST coworking at Hotel Tryp by Wyndham (Dubai).
Some hotel chains such as Accor, which has partnered with the coworking company Nextdoor, or the Marriott's chain hotel, which has partnered with the coworking platform LiquidSpace, both are activating their lobbies with coworking. Bringing an added value for guests and locals: a free experience that allows people to travel, work, network and have fun. Coworking as a side service can become a key part of the hotel's strategy to reestablish itself as a vital part of the community, having an innovative impact on the end-user but also among the competitors.
Hotels already have something that Airbnb can't offer: communal space (known by most folks as the hotel lobby). – Ian Shrager, Boutique Hotel.
We see it clearly, more and more accommodation companies like hotels and aparthotels will develop informal hybrid models focused on the experience around coworking and coliving. The ability to be flexible in the era of digitalization, adapting the business to the current changing society needs, are key elements that will determine the present and the future competitiveness of hotels.
Hotels and coworking will be merging. We can see developing a hotel with developing at least one floor to a dedicated coworking space. – Paresh Master, president, SSM Hospitality LLC.
Some hotels around the world that already have integrated coworking are:
Hotel Schani (Vienna).
Hotel Zoku (Amsterdam).
Wojo by Accor Hotels (locations in France, Spain, etc).
Volkshotel (Amsterdam).
Soho House (London, Berlin, Barcelona, EEUU, Asia).
The Student Hotel (Amsterdam, Barcelona, Dresde, 

Eindhoven, Florence, etc).

Hobo (Estocolm).
La Cocotera (Tarifa, Spain).
Mojo Nomad 

(Sydney and Hong Kong).

Nest by Tryp.

(Dubai).

Hotel Ace 

(New York and London).

Marriot Hotels (worldwide)
Etc.
If you are looking for new solutions such as coworking, contact us. Many hotels, apart-hotels, gyms, airports, malls and social clubs have been able to enlarge their businesses, to improve user experience for their customers and to attract new audiences by creating new additional services, communal working and meeting areas in their premises.
Featured image provided by Spaces.
Testimonials source: Medium, Hotel Business and Skift.
This article was originally written by HWL agency partner Vanessa Sans and also posted on her Linkedin.