Business Plan for Your Coworking Space
Developing a business plan for a coworking centre can be a long and complex process, especially if you are inexperienced. However, you are an operator going for your second space. In that case, a business plan will help you improve your strategy and better define the actions to carry it out because it is a living document that needs to be updated every year as the business grows.
Whether you are opening your first or second coworking space, before investing in the project, you should first conduct a feasibility study to determine the project's profitability and confirm that there is a business opportunity.
Once you have validated the project's feasibility, the next step is to draw up your business plan. The feasibility study and the business plan are closely linked; the first one assures you that there is a business and sets the economic objectives, while the second one proposes the strategy and the actions to be implemented to achieve the goals.
At HWL, we have completed nearly 50 coworking projects worldwide and have the experience in Coworking Development, knowledge and resources to help you create your business plan. In this article, we explain how we can help you to make this process less complicated.
Why do you need a business plan for a coworking space?
Making a coworking business plan is essential because:
It defines the strategy of your company and the actions to be implemented.

It plans the growth of your business.

It projects the financial profitability of the business over the years.

It reduces risks.

It improves your operations.

In addition, it can help you obtain financing.
What are the components of a coworking business plan?
Divide the business plan into three blocks:
1. Business model validation.
2. Business development.
3. Launch.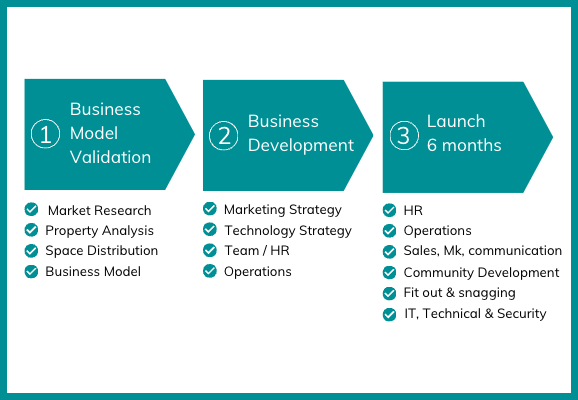 1. Business model validation
You elaborate on the feasibility study. This section is critical because it will help you decide whether your coworking project will work. 
Executive summary
It describes the company and provides critical conclusions once you finish the business plan. It includes:
Overview of the company.

Description of the partners, management team and key collaborators.

Value proposition.

Space allocation summary.

Financial study summary.
Market research
A market study helps you to detect if there is a business opportunity for your coworking, who your demand is, what they need and how you can standby from your competition. It includes:
Local environment analysis: Explore the location and detect surrounding services (bars, restaurants, gyms), nearby competitors, corporations, universities, coworking spaces, technology hubs, business centres, etcetera.
Benchmarking of local and inspirational competitors: Compare data such as services offered, prices, size of space or number of workstations, common areas, value proposition and audience.
Demand and needs exploration: Segment the audience and design your Buyer Persona (user type, generation, pains and needs, interests, habits, purchasing power).
Value proposition: Identify the objectives and needs of your potential users and link them to the value proposition.
Property analysis
Hire an engineer to confirm the property is valid, comply with the coworking activity regulations, and obtain all the necessary permits.
Space distribution
Space allocation programme: Define your space's different uses and needs according to your demand. With the architectural programme, you obtain the productive units to generate income in your financial plan.
Preliminary architectural study: Preliminary design of the space distribution following the space allocation programme's indications. An architect must dump the information from the programme into AutoCAD to validate the productive units obtained.
Business model
10-year economic and financial study under three different occupancy scenarios will project monthly revenues, operating expenses and cash flow. It also will include the Capex and critical financial profitability metrics for the space as a service business model. As a result, you will get a perfect financial picture of the business and set the financial targets to be achieved.
2. Business development
You create the strategy of your coworking business and plan all the actions to be carried out to achieve the objectives established in the financial study.
Marketing strategy
This serves to attract, engage and retain potential members of your coworking space. It includes:
Products and services: Describe all plans, memberships, included services and additional services.
Promotions and pricing: Document the prices you will offer and compare them with your competitors. Also include plan opening promotions, contract promotions, etc.
Key alliances: Proposal of potential partners (associations, universities, influencers, perks).
Sales channels: Identification of the different brokers and specific sales channels for coworking.
Communication plan: Define the channels through which you will communicate (social networks, website, posters, events, etc).
Community development plan: Stages and actions for the development of the community (creation, development and retention) including a programme of activities for each stage.
User experience: Design and describe the coworker journey in all its stages, from lead generation, conversion, on-boarding, and retention to exit.
Launching plan: Digital strategy within three months of the opening of the space. Must take into account:

Lead Generation Strategy (Facebook and Google ads).

Media plan.

Blog and SEO strategy.

Newsletter strategy.
Technology strategy
Proposal of technological solutions for intelligent space and business management:
Management software.

Software integrations: electronic access, printing, platform, community, internet, etc.

Business production tools: project manager, CRM, cloud workspace, etc.
Team
Description of the management team, their roles, responsibilities, tasks, remuneration and schedules for each position.

Training plan for the team.
Operations manual
Describe how you are going to achieve the related objectives. It includes all the daily processes and tasks to be carried out by each department:
Space or facility Manual.

Team manual or employee handbook.

Sales Manual (including the Coworking Agreement).

Venue hire/ external events manual.

Communication manual.

Community manual (including the House Rules).
3. Strategy & timeline for the launch of your coworking business
Prepare to go to market three months before the opening and three months after.
We share with you a co-created launch strategy made by 20 coworking operators from different countries as a result of a workshop facilitated by Claire Carpenter from The Melting Pot and Vanessa Sans from HWL. You can download the launch plan with the leading strategies and action plans for setting up a coworking centre during the three months before and after its opening date.
Conclusion
As you can see, developing a business plan for your coworking is a worthwhile endeavour. Follow the structure we have proposed. You will become an expert capable of generating a marketing strategy, making an operational plan, and starting up and growing a thriving coworking centre. If you need help in the process, contact us.
If you enjoyed this article, you would like How to open a coworking space.
Featured picture courtesy of Aticco coworking.